Site Owner's Guide to a Smooth Drupal 9 Upgrade Experience
While upgrading to the latest version is always part of the best practice, the process can be staggering.

Drupal 8.7 is already here and 9 will be released in a year, in June 2020.

Although a lot of discussion is happening around the upgrade and possibilities it brings along, the final product can only be as good as the process itself.

The good and important news is that moving from Drupal 8 to Drupal 9 should be really easy — radically easier than migrating from Drupal 7 to Drupal 8.

As a site owner, here's what you need to know about the new release and what to take care of to make the process easier without many glitches.
The Drupal 9 Release and Timeline
The goal of Drupal 9 is to make it an easy upgrade as much as feasible from Drupal 8. Unlike most of the previous upgrades, D9 will be different in terms of:
Updates of dependencies to versions that stay supported.
Removal of our own code that we deprecated with removal before Drupal 9's release.
The new release will be a cleaned-up version of Drupal 8. Built on the same code base with deprecated code removed and third-party dependencies updated, Drupal 9 is not a reinvention of Drupal.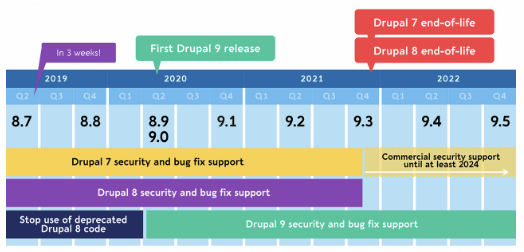 The next question is what happens to Drupal 7 and 8, then?

Read the full blog here - https://www.srijan.net/blog/guide-to-a-smooth-drupal-9-upgrade-experience
continue reading